Complete Bathroom Renovations
Blocked Drain Specialists
We can locate blocked drains with our high tech CCTV Drain Camera, Service Locator and Water Jetter
Professional bathroom design service in the Shoalhaven offering fixed price packages with high quality fixtures.
Leaking taps and pipe repairs. For emergency tap and leaking pipe repairs, we have you covered 24 hrs / 7 days.
Nowra hot water systems. We can supply and install new gas, electric and solar hot water heaters and systems.
Why Use Activ Plumbing Solutions?
Olly Bennett from Activ Plumbing Solutions is your local licensed Plumber and Gas-Fitter offering 24hr emergency service and cover all aspects of plumbing, gas-fitting and maintenance plumbing services from Kiama through to Ulludulla.
We specialize is Bathroom and laundry renovations, high pressure drain jetter for clearing blocked drains, gas-fitting and hot water system installation and repairs.
You can rely on us for prompt, reliable, quality service for your plumbing and repair needs at an affordable price.
Servicing The Shoalhaven Area
Activ Plumbing Solutions providing 24/7 emergency plumbing services throughout the Shoalhaven area including Jervis Bay, St Georges Basin, Sanctuary Pt, Erowal Bay and Old Erowal Bay.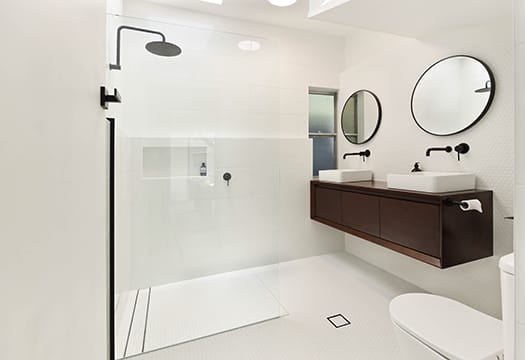 Complete Bathroom Renovations
Call Oliver for all bathroom and laundry renovations. We take care of everything leaving you stress free.
Licensed Gas Fitter
Activ Plumbing Solutions offer complete & high quality gas fitting services for your new or existing property.
Gutters and Downpipes
Gutter and downpipe installation in the Shoalhaven. We install new and replacement gutters and downpipes to your home.
Bathroom Renovation Dream Team
Olly from Activ Plumbing Solutions is a trades person that lives up to expectations and then some.
Our hideous 70s bathroom needed an overhaul. From start to finish Olly was nothing short of amazing, up to task and knows his stuff.
From initial meeting to completion all aspects have been friendly, professional and on time, always accommodating, even squeezed other odd jobs in for me.
Olly was always on hand to help and manage things that pop up.
His know how and connections in all trade fields work seamlessly together to achieve an impeccable standard and finish.
I can't thank you enough for all your hard work, you delivered a bathroom of our dreams, the results exceeded expectations – A Pinterest worthy result.
I enjoyed the whole renovation process, thanks to you Olly and the "Bathroom renovation dream team".
Look forward to woorking with you on future projects.
I have no hesitiation recommending Activ Plumbing Solutions!
Amazing Plumber!
Very professional and friendly service.
Olly went out of his way to keep us up to date with what was happening and what options we had with a blocked sewer drain.
He also offered different solutions to our problem with the most cost effective way with a long term solution.
He thought outside the box and used previous clientele experience with our issue while making and calling council on our behalf to organise repairs.
He has done an excellent job both during and post service that we are very happy with.
We would recommend to anyone and will be using him for our future renovations!
Get In Touch With Activ Plumbing Solutions
Email Us
activplumbingsolutions@gmail.com